December 3, 2015
This is part of a four post series spanning two blogs.
As I mentioned in my quick AI history overview, I was pretty involved with AI vendors in the 1980s. Here on some notes on what was going on then, specifically in what seemed to be the hottest area at the time — expert systems. Summing up:
The expert systems business never grew to be very large, but it garnered undue attention (including from me). In particular, the companies offering the technology didn't prosper much.
What commercial investment there was in expert system projects, successful or otherwise, foreshadowed some of what would be tried using other analytic technologies. Application areas included, among others, credit granting, financial trading, airline flight pricing and equipment maintenance.
Technological reasons the industry failed included:

The difficulties of debugging and maintaining a collection of rules.
Lack of ability to crunch data, or to benefit from data crunching. (This is surely why few expert systems use cases were in the marketing area.)
A paradigm that assumed the required rules pre-existed inside expert humans' heads.

There were some successful projects even so.
First, some basics.  Read more
September 20, 2012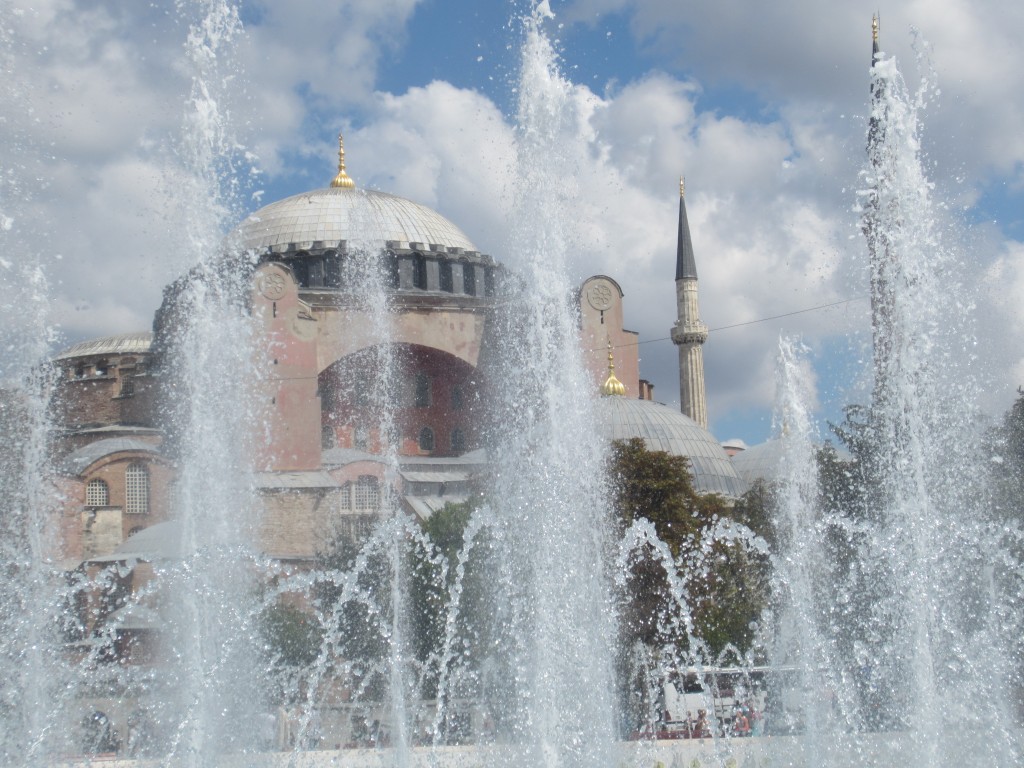 Hagia Sophia seen through the Sultan Ahmed fountain, by Linda Barlow. Read more
September 19, 2012
I'm in Istanbul, in the second part of a two-week vacation with Linda. Last week we stayed almost completely in the old city, with our hotel being just 3 blocks from the Gülhane tram stop. This week we're in the new part, on a hillside between Taksim Square and Kabataş. For a variety of reasons, I haven't been as diligent about email and so on as I usually am while on vacation, and I've been completely unavailable for any except the most utterly urgent phone calls, of which there thankfully have not been any. But this evening, while Linda watches Muhteşem Yüzyıl in the other room, I'm in the mood to write a bit of travelogue, and post it in what among other things has become the most personal of my blogs.
Linda lived in Turkey for a while with her first husband, and speaks excellent Turkish. (In general, the Barlow women have an amazing talent for languages.)
If you've never been to Istanbul, it must be seen to be believed. From a hills and water standpoint, imagine 10 San Franciscos, but with many of the buildings being 500+ years old. The whole thing is wrapped around the Bosphorus, in which at any moment you can see 2-3 tankers, a whole lot of commuter ferries, and generally more ship traffic than I imagine can be found in any other similar expanse of water in the world (the Panama Canal area perhaps excepted). And there are plenty of places from which to get awesome views, most notably on the water itself. If you're ever in Istanbul, seize every pretext you can find to be out on the water.
When it comes to great religious buildings, Istanbul may be my favorite city in the world, ahead of Rome, Paris, and even Kyoto. Reasons include: Read more
April 2, 2010
The top PostgreSQL-related April Fool's joke this year, which seems to have successfully pranked at least a few people, was that Postgres is dropping SQL in favor of an alternative language QUEL.
Folks, QUEL was the original language for Postgres. And Ingres. And, more or less, Teradata.*  I'd guess Britton-Lee too, but I don't recall for sure.
*Once upon a distant time, when I was a cocky young stock analyst, I explained to Phil Neches, chief scientist of Teradata, just why it was a really good business idea to drop T-QUEL for SQL. I doubt he was convinced quite on that day, more's the pity.
March 30, 2010
On April Fool's Day, it is traditional to spread false stories that you hope will sound true. Last year, however, I decided to do the opposite – I posted some true stories that, at least for a moment, sounded implausible or false. This year I'm going to try to turn the idea into a kind of blog-tagging meme.*
*A blog-tagging meme is, in essence, an internet chain letter without the noxious elements.
Without further ado, the Rules of the No-Fooling Meme are:
Rule 1: Post on your blog 1 or more surprisingly true things about you,* plus their explanations. I'm starting off with 10, but it's OK to be a lot less wordy than I'm being. 😉 I suggest the following format:
A noteworthy capsule sentence. (Example: "I was not of mortal woman born.")
A perfectly reasonable explanation. (Example: "I was untimely ripped from my mother's womb. In modern parlance, she had a C-section.")
*If you want to relax the "about you" part, that's fine too.
Rule 2: Link back to this post. That explains what you're doing. 🙂
Rule 3: Drop a link to your post into the comment thread. That will let people who check here know that you've contributed too.
Rule 4: Ping 1 or more other people encouraging them to join in the meme with posts of their own.
Hopefully, the end result of all this will be that we all know each other just a little bit better! And hopefully we'll preserve some cool stories as well.
To kick it off, here are my entries. (Please pardon any implied boastfulness; a certain combustibility aside, I've lived a pretty fortunate life.)
I was physically evicted by hotel security from a DBMS vendor's product announcement venue. It was the Plaza Hotel in NYC, at Cullinet's IDMS/R announcement. Phil Cooper, then Cullinet's marketing VP, blocked my entrance to the ballroom for the main event, and then called hotel security to have me removed from the premises.
A few years later, the same Phil Cooper stood me up for a breakfast meeting in his own house in Wellesley. When one's around Phil Cooper, weird things just naturally happen. Read more
March 28, 2010
The approach of April Fool's Day has me thinking of software industry pranks and other hijinks. Most of what comes to mind is verbal jousting of various sorts that doesn't really fit the theme. But there was one case in which ongoing business competition got pretty prankish: mainframe-era accounting software leaders MSA vs. McCormack & Dodge. Read more
February 6, 2007
I was just writing about LinkedIn again, and was reminded that nobody ever answered the trivia question based on this post:
Who was the original fictitious Rob Carpenter?
January 22, 2007
It's oh-so-retro in these days of YouTube pyrotechnics, but I love this.