Personal
Personal recollections by blog owner Curt Monash, plus notes on his family.
September 20, 2012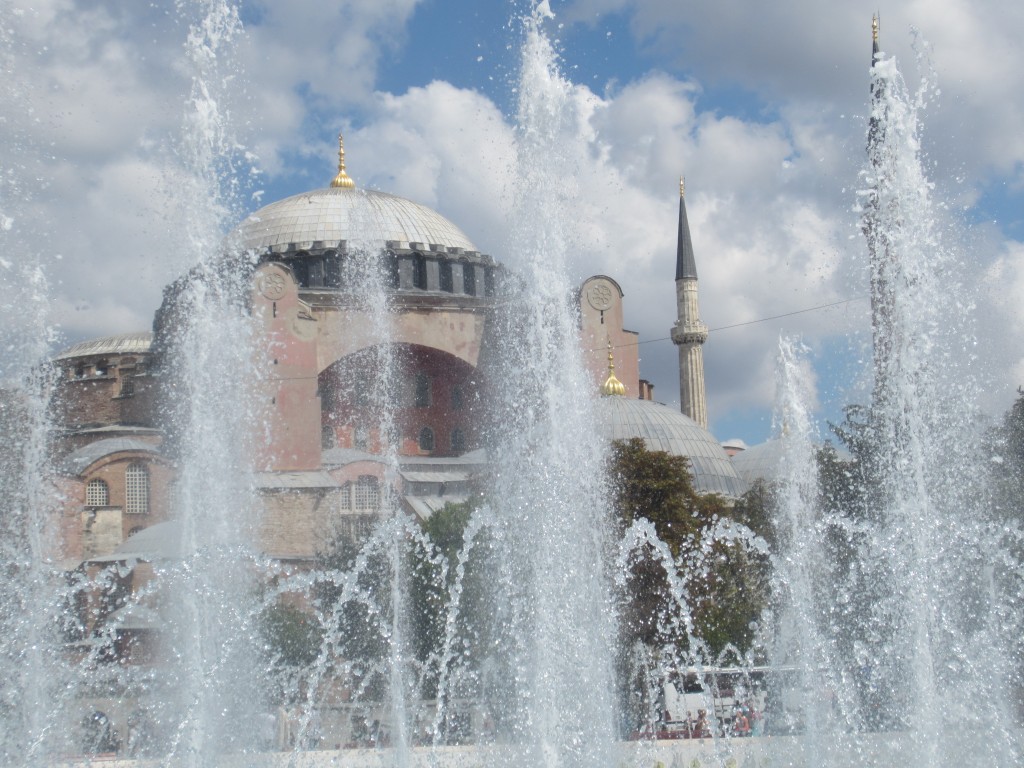 Hagia Sophia seen through the Sultan Ahmed fountain, by Linda Barlow. Read more
September 19, 2012
I'm in Istanbul, in the second part of a two-week vacation with Linda. Last week we stayed almost completely in the old city, with our hotel being just 3 blocks from the Gülhane tram stop. This week we're in the new part, on a hillside between Taksim Square and Kabataş. For a variety of reasons, I haven't been as diligent about email and so on as I usually am while on vacation, and I've been completely unavailable for any except the most utterly urgent phone calls, of which there thankfully have not been any. But this evening, while Linda watches Muhteşem Yüzyıl in the other room, I'm in the mood to write a bit of travelogue, and post it in what among other things has become the most personal of my blogs.
Linda lived in Turkey for a while with her first husband, and speaks excellent Turkish. (In general, the Barlow women have an amazing talent for languages.)
If you've never been to Istanbul, it must be seen to be believed. From a hills and water standpoint, imagine 10 San Franciscos, but with many of the buildings being 500+ years old. The whole thing is wrapped around the Bosphorus, in which at any moment you can see 2-3 tankers, a whole lot of commuter ferries, and generally more ship traffic than I imagine can be found in any other similar expanse of water in the world (the Panama Canal area perhaps excepted). And there are plenty of places from which to get awesome views, most notably on the water itself. If you're ever in Istanbul, seize every pretext you can find to be out on the water.
When it comes to great religious buildings, Istanbul may be my favorite city in the world, ahead of Rome, Paris, and even Kyoto. Reasons include: Read more
November 9, 2010
I have been writing a series of posts about my recently-deceased parents Peter and Anita Monash. A listing of them may be found below.
We now have details for their joint Celebration of Life, a better term than "Memorial Service," or at least one less fraught with religious overtones. It will be Sunday, November 14, 4 pm, at Friendship Village of Dublin (address and directions below).
To quote a previous post:
Please make in-lieu-of-flowers donations to the Clinton Foundation, which is doing terrific work in Haiti relief, microfinance, tropical disease, HIV/AIDS, and much, much more.
Unfortunately the Clinton Foundation has no obvious "In Memory Of ____ " option, so please feel free to make mention of a gift in the comments below, should you choose.
At this time I do not plan to blog at any length about my parents' retirement years or final declines. More precisely, I do not plan to cover those subjects at length unless I am prepared to weave them into "lessons learned" kinds of posts. But to cover those in very abbreviated form:
My parents, while still fairly strong and active, moved into the Friendship Village of Dublin community linked in the directions below.
Peter Monash's dementia was mild until the end. He had difficulties remembering certain words or names, and generally was slower mentally than he was in his prime, but in essence his personality and lively mind were unaltered.
Much the same was true of Anita Monash until January of this year, give or take a month. And even until (almost) the end, she recognized everybody, could respond to fairly sophisticated concepts, and so on.
They both had issues with the classic old-age banes of falls, pain, weakness, hearing loss, pneumonia, and skin infections. Neither seemed to have a problem with strokes. Peter Monash also lost the sight in one eye, which interfered with reading. Much of Peter Monash's weakness was kidney-related. Anita Monash had longstanding fibromyalgia.
Location details for Peter and Anita Monash's Celebration of Life are:
Friendship Village of Dublin, phone number and overview map at that link.
6000 Riverside Drive, Dublin, OH. The entrance is on a cross street at the south end of the facility. Google Maps isn't looking terribly reliable.
You want the main building entrance, on the East/Riverside Drive/Scioto River side of the facility.
The actual event will be in the "Convocation Room," near the main lobby.
And finally, I'm the executor of the wills of both Peter and Anita Monash — dated 2004 — and we have a glitch. There's a bequest of some nice craft items to Robert Zwink, perhaps now or previously a resident of the Columbus, OH area, and I have no idea who Robert Zwink is. Mr. Zwink — if you discover this post, please contact me via the Contact link above. If you're the wrong Robert Zwink, but have an idea of a namesake who might be the correct one, please help me out by putting us in touch.
The series so far
November 5, 2010
My mother frequently said that the most important thing in life was health — if you had that, you could deal with the rest. Unfortunately, she often didn't have it.  Read more
November 3, 2010
Anita Kaete Jonas was born June 23, 1928 in Dresden, Germany, to Kurt and Ilse "Ille" Jonas. She seems to have been quite the cute and spoiled little kid. She called her father "Kurtchen," the diminutive of his given name; hence everybody else, including his patients, called him that as well. (They knew what she called him because she always insisted on answering the telephone.*) Her aunt (childless) and uncle evidently doted on her. Her father was a charmer, and my grandmother wasn't so bad herself. It was one of those families.  Read more
November 3, 2010
I've just written a long post about the general creative consulting endeavors my late father was involved in. Highlights specific to him included:
In 1973, Peter Monash joined Management Horizons, a consulting firm in the Columbus, Ohio area serving retailers.
In 1976, he helped found a spin-off consulting firm, The Doody Company, later called Retail Planning Associates.
In 1981, he and Terry Westmacott founded a spin-off of the spin-off, called ROI. (Pay no attention to the official name of "Retail Optimization International," which I actually came up with for them — the point was to call it "ROI".) That wasn't the most successful of partnerships.
He briefly went back to Retail Planning Associates (RPA).
Finally, he founded Peter E. Monash and Associates, where the "Associates" were my mother and some part-time subcontractors (often ones he'd known from RPA). That was very successful.
Along the way, he did serious work for major retailers around the world — Wal-Mart in the US, Migros in Switzerland, Tesco in the UK, Horten, Karstadt, and Kaufhof in Germany, Ito Yokado in Japan, COIN in Italy, and many others spanning the world, Brazil and South Africa not excepted. Read more
November 3, 2010
When he got to Columbus, Ohio, my late father Peter Monash helped make retail industry history. So before I continue a more personal view of his life story, let me talk a bit about the broader industry dynamics. I am, on the whole, no expert on retailing.* But perhaps I know just enough to get the discussion kicked off.
*Well, there was that one time Duane Naccarato and I did strategic consulting for a Central American general merchant chain. But that only came about because their culture put strong emphasis on personal friendships, family connections, and the like. Also, one of the many things they needed to upgrade was their information systems …

Big stores were only made possible by technologies such as (fairly) modern transportation and, for that matter, electric lighting. Malls, well-stocked specialty stores, further depended on developments such as automobiles and suburbs. So as of the 1970s, the modern retail industry really wasn't all that old.  Read more
November 1, 2010
If you knew my late father Peter Monash, you knew him to be a very personable and social man.* Frankly, I don't know any stories from his life in Germany or France that particularly bear that out, save perhaps in the immediate WW2 aftermath when — like everybody else — he was scrounging resources so that he and his family could survive. But it sure came into play as soon as he got to the US. He lived in poverty in New Haven, CT, working as a dishwasher. But he also fell in with a group of Yale students, who set about "Americanizing" him. He got progressively more decent jobs. He took one or the other Yale extension course, the basis for wild academic resume inflation later (in fact, he never actually graduated the equivalent of high school). He blew the covers off a prototype IQ test. He had an active social life. And he did his part to bring the rest of his family to the US to be with him.
*And if you didn't know him, you may not care much about the narrative in this post.
November 1, 2010
The man later known as Peter Ernest Monash was born Ernst Rainer Monasch, on August 16, 1924, in the German town of Rudolstadt, where his father Alfred Monasch had recently opened a factory that employed a couple hundred of workers. His life was probably not unlike that of an only child, in that his brother and sister were 10 and 11 years older respectively. He was smart, high-strung, fast, and short. From all I know he was basically a normal kid, leading what for that era and socioeconomic class was a normal life. I know from one story that he was lousy at Latin, but I'd guess that overall he did pretty well in school — and even that supposedly not-known Latin was, from time to time, quoted to me at the dinner table.
In 1933, the Nazis took power. Read more
November 1, 2010
I have multiple motives or angles in writing about my late parents (and other deceased relatives).
When people die, their friends and acquaintances have some curiosity about their lives. I am inclined to oblige that, perhaps at greater length than is common.
As you can see from the fact that this blog exists, I am generally interested in recording history. In writing about my parents, grandparents, and so on, I can touch on:

The general history of various eras. My maternal grandfather engaged in quite a few hijinks wearing top hat and tails.
Certain political high- or low-lights. The story of the "Mischlinge" in the Holocaust is not widely known. In an era of increasing Holocaust denial, I generally want to add to its documentation. I'll touch briefly on McCarthyism as well.
Business history. When I'm not repurposing it for personal subjects, this is a business history blog. My father helped make retail business history. Some of his insights influenced my own thoughts about other industry sectors.

To a remarkable extent, I am my family's last survivor. I am not just an only child but, on both sides, an only grandchild as well. I do not plan to have children of my own. In essence, there is nobody to tell my family's stories to except "the world at large."
I'd like to lay out some "lessons learned" about elder care, medical care in general, and perhaps other topics as well.
That's a lot. If it ever is completed, it will cover a lot of different blog posts. So please understand if any one post in particular feels a little bit sparse or incomplete — it's just a piece of a larger whole.
The series so far