August 3, 2013
I previously posted that the term Business Intelligence dates back to the 1950s, even though Howard Dresner has claimed credit for inventing it at a couple of different points in the 1980s.
Now the term Business Intelligence has been tracked all the way back to 1865.
April 29, 2013
Recently I expressed doubts about Actian's DBMS-conglomerate growth strategy. For context, perhaps I should review other DBMS vendors' acquisition strategies in the past. Some — quite a few — worked out well; others — including many too minor to list — did not.
In the pre-relational days, it was common practice to buy products that hadn't succeeded yet, and grow with them. Often these were programs written at enterprises, rather than third-party packages. Most of Cullinet's product line, including its flagship DBMS IDMS, was came into the company that way. ADR, if memory serves, acquired the tiny vendor who created DATACOM/DB.
Then things slowed down. A Canadian insurance company oddly bought Computer Corporation of America, to utter non-success. (At least I got an investment banking finder's fee on the deal.) Computer Associates, which did brilliantly in acquiring computer operations software, had a much rockier time with DBMS. It acquired Cullinet, Applied Data Research, and ASK/Ingres — among others — and didn't have much growth or other joy with any of them.
Indeed, Ingres has been acquired three times, and hasn't accomplished much for any of the acquirers (ASK, Computer Associates, Actian).
I used to think that Oracle's acquisition of RDB provided key pieces of what became Oracle's own extensibility technology. Andy Mendelsohn, however, disputed this vehemently — at least by his standards of vehemence — and his sources are better than mine. Rather, I now believe as I wrote in 2011:
… while Oracle's track record with standalone DBMS acquisitions is admirable (DEC RDB, MySQL, etc.), Oracle's track record of integrating DBMS acquisitions into the Oracle product itself is not so good. (Express? Essbase? The text product line? None of that has gone particularly well.)
Experiences were similar for some other relational DBMS pioneers.  Read more
October 3, 2012
The single company whose history people most often ask me about is Oracle. That makes sense — Oracle is a hugely important company, which I've known for almost all of its 30-year commercial life.  And of course, this being the week of Oracle OpenWorld, Oracle is top-of-mind.
Let's start with a breezy overview, setting the stage for more detailed posts to follow. As I see it, there have been four eras at Oracle, which between them reflect just about every tech company management theory I can think of.
Startup: This period comprised initial development, custom contract with the US military (CIA, I think, even though the demo database was always naval), and initial product release. This is the one phase of Oracle's history I didn't witness personally. But it seems to have been pretty much a story of "build a minimum viable product for a great vision, and hustle until somebody buys it."
Hypergrowth: Roughly speaking, Oracle grew 100% per year on its way from $5 million in revenue to $1 billion. This period formed much of the basis for Geoffrey Moore's famous "Crossing the Chasm" series of books. In line with Moore's later observations, Oracle's priorities in this period were: Read more
September 20, 2012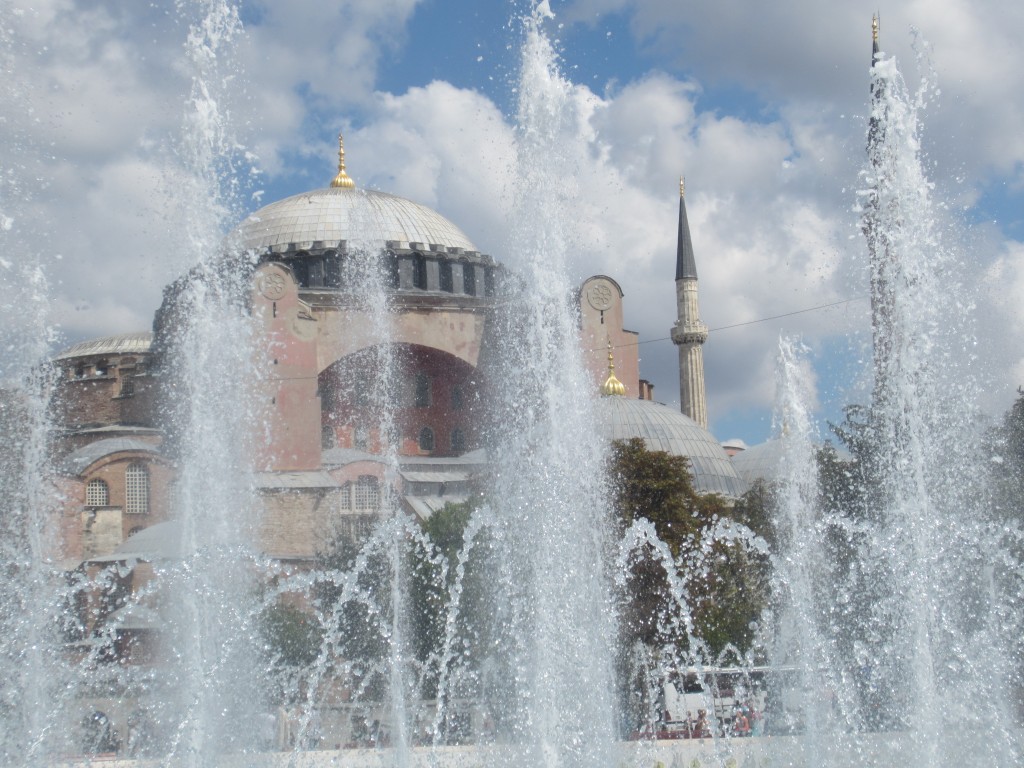 Hagia Sophia seen through the Sultan Ahmed fountain, by Linda Barlow. Read more
September 19, 2012
I'm in Istanbul, in the second part of a two-week vacation with Linda. Last week we stayed almost completely in the old city, with our hotel being just 3 blocks from the Gülhane tram stop. This week we're in the new part, on a hillside between Taksim Square and Kabataş. For a variety of reasons, I haven't been as diligent about email and so on as I usually am while on vacation, and I've been completely unavailable for any except the most utterly urgent phone calls, of which there thankfully have not been any. But this evening, while Linda watches Muhteşem Yüzyıl in the other room, I'm in the mood to write a bit of travelogue, and post it in what among other things has become the most personal of my blogs.
Linda lived in Turkey for a while with her first husband, and speaks excellent Turkish. (In general, the Barlow women have an amazing talent for languages.)
If you've never been to Istanbul, it must be seen to be believed. From a hills and water standpoint, imagine 10 San Franciscos, but with many of the buildings being 500+ years old. The whole thing is wrapped around the Bosphorus, in which at any moment you can see 2-3 tankers, a whole lot of commuter ferries, and generally more ship traffic than I imagine can be found in any other similar expanse of water in the world (the Panama Canal area perhaps excepted). And there are plenty of places from which to get awesome views, most notably on the water itself. If you're ever in Istanbul, seize every pretext you can find to be out on the water.
When it comes to great religious buildings, Istanbul may be my favorite city in the world, ahead of Rome, Paris, and even Kyoto. Reasons include: Read more
February 17, 2012
I recently wrote a long post on the premise that enterprise analytic applications are not like the other (operational) kind. That begs the question(s): What are operational enterprise applications like?
Historically, the essence of enterprise applications has been data management — they capture business information, then show it to you. User interfaces are typically straightforward in the UI technology of the era — forms, reports, menus, and the like. The hard part of building enterprise applications is getting the data structures right. That was all true in the 1970s; it's all still true today.
Indeed, for many years, the essence of an application software acquisition was the database design. Maintenance streams were often unimportant; code would get thrown out and rewritten. But the application's specific database structure would be adapted into an extension to the acquirer's own.
Examples that come to mind from the pre-relational era include: Read more
January 17, 2012
This post is part of a short series on the history of analytics, covering:
What set off my "history of analytics" posting kick is, simply put:
Most interesting analytic software has been adopted first and foremost at the departmental level.
People seem to be forgetting that fact.
In particular, I would argue that the following analytic technologies started and prospered largely through departmental adoption:
Fourth-generation languages (the analytically-focused ones, which in fact started out being consumed on a remote/time-sharing basis)
Electronic spreadsheets
1990s-era business intelligence
Dashboards
Fancy-visualization business intelligence
Planning/budgeting
Predictive analytics
Text analytics
Rules engines
January 17, 2012
This post is part of a short series on the history of analytics, covering:
Historical notes on analytic terminology (this post)

Discussions of the history of analytic technology are complicated by the broad variety of product category names that have been used over the decades. So let me collect here in one place some notes on how (and when) various terms have been used, specifically:
Management information systems
Decision support (systems)
Report writer
Fourth-generation language
Executive information system
Business intelligence
OLAP (OnLine Analytic Processing)
January 17, 2012
This post is part of a short series on the history of analytics, covering:
Historical notes on analytics — the pre-computer era (this post)

Sometimes, what people describe as being "New, new, new!!!" in analytics has actually been happening since before they were born, or even before their parents were. Occasionally, I point this out.

I think it's time to collect some of those observations into a short series of posts.
Before getting to the history of actual analytic software, I can't resist racing through some really old stuff. In a 2004 white paper, I wrote:
Transactional business processes have been around literally since the beginning of recorded history. Some of the oldest known writings are clay tablets that record merchants' tallies in Sumerian cuneiform, complete with seals to enforce transaction integrity. Analytic business processes date back nearly as long, especially in military applications; the first chapter of Sun Tzu's The Art of War is called "Calculations," or in some translations "Laying Plans."*

As enterprise complexity increased, so did the sophistication of analytic business processes. Almost two centuries ago, Nathan Rothschild made an investment fortune from early news about the Battle of Waterloo, and several decades later Florence Nightingale** introduced statistics to the study of public health. With the invention of machines to tabulate information in the late 19th Century, analysis began to blossom.
July 10, 2011
I blogged a little last year about the rewards and challenges of combining professional services and software in a mature company's business model. My main example was Oracle. But other examples from Oracle's history might have been equally instructive. For example:
Oracle started out doing what amounted to custom development for government (military/intelligence) clients.
Even when Oracle said it had productized its software, the stuff didn't work very well without services to get it running.
Oracle and Ingres both got a huge fraction of their early revenue* from deals to port their software to various brands of hardware. That's a lot like professional services.
Oracle's huge Tools Group grew out of professional services, if I have the story straight. Indeed, its first product was written by later long-time group chief Sohaib Abbasi when he was a consultant.