September 20, 2012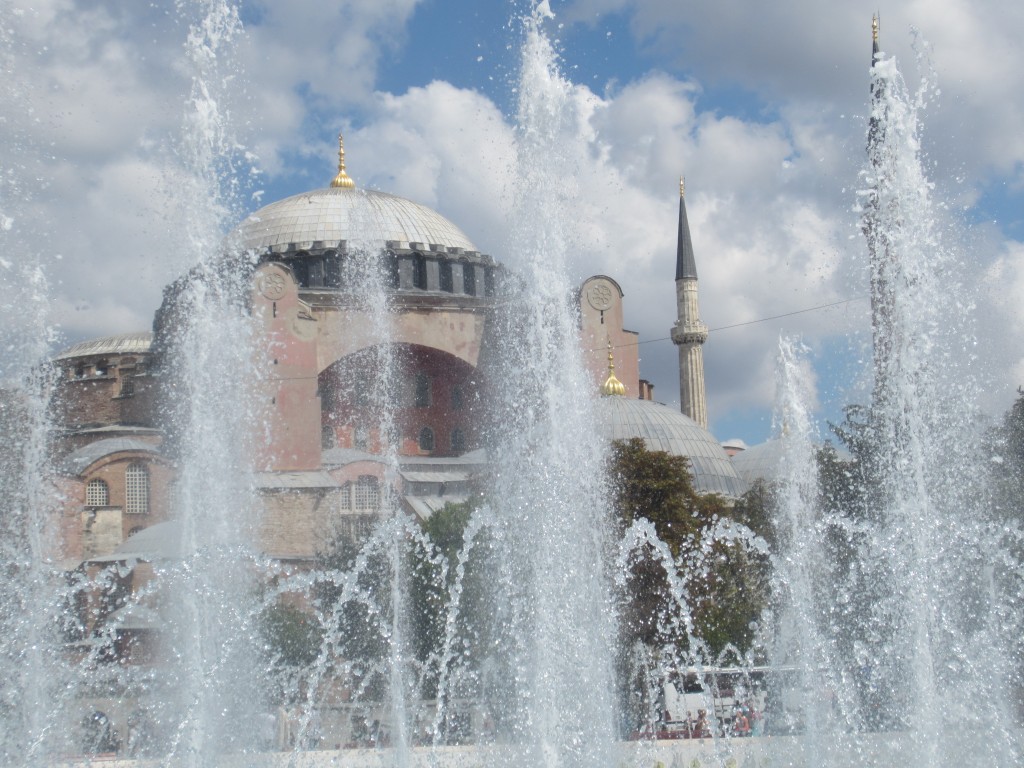 Hagia Sophia seen through the Sultan Ahmed fountain, by Linda Barlow. Read more
September 19, 2012
I'm in Istanbul, in the second part of a two-week vacation with Linda. Last week we stayed almost completely in the old city, with our hotel being just 3 blocks from the Gülhane tram stop. This week we're in the new part, on a hillside between Taksim Square and Kabataş. For a variety of reasons, I haven't been as diligent about email and so on as I usually am while on vacation, and I've been completely unavailable for any except the most utterly urgent phone calls, of which there thankfully have not been any. But this evening, while Linda watches Muhteşem Yüzyıl in the other room, I'm in the mood to write a bit of travelogue, and post it in what among other things has become the most personal of my blogs.
Linda lived in Turkey for a while with her first husband, and speaks excellent Turkish. (In general, the Barlow women have an amazing talent for languages.)
If you've never been to Istanbul, it must be seen to be believed. From a hills and water standpoint, imagine 10 San Franciscos, but with many of the buildings being 500+ years old. The whole thing is wrapped around the Bosphorus, in which at any moment you can see 2-3 tankers, a whole lot of commuter ferries, and generally more ship traffic than I imagine can be found in any other similar expanse of water in the world (the Panama Canal area perhaps excepted). And there are plenty of places from which to get awesome views, most notably on the water itself. If you're ever in Istanbul, seize every pretext you can find to be out on the water.
When it comes to great religious buildings, Istanbul may be my favorite city in the world, ahead of Rome, Paris, and even Kyoto. Reasons include: Read more
February 17, 2012
I recently wrote a long post on the premise that enterprise analytic applications are not like the other (operational) kind. That begs the question(s): What are operational enterprise applications like?
Historically, the essence of enterprise applications has been data management — they capture business information, then show it to you. User interfaces are typically straightforward in the UI technology of the era — forms, reports, menus, and the like. The hard part of building enterprise applications is getting the data structures right. That was all true in the 1970s; it's all still true today.
Indeed, for many years, the essence of an application software acquisition was the database design. Maintenance streams were often unimportant; code would get thrown out and rewritten. But the application's specific database structure would be adapted into an extension to the acquirer's own.
Examples that come to mind from the pre-relational era include: Read more
January 17, 2012
This post is part of a short series on the history of analytics, covering:
What set off my "history of analytics" posting kick is, simply put:
Most interesting analytic software has been adopted first and foremost at the departmental level.
People seem to be forgetting that fact.
In particular, I would argue that the following analytic technologies started and prospered largely through departmental adoption:
Fourth-generation languages (the analytically-focused ones, which in fact started out being consumed on a remote/time-sharing basis)
Electronic spreadsheets
1990s-era business intelligence
Dashboards
Fancy-visualization business intelligence
Planning/budgeting
Predictive analytics
Text analytics
Rules engines
January 17, 2012
This post is part of a short series on the history of analytics, covering:
Historical notes on analytic terminology (this post)

Discussions of the history of analytic technology are complicated by the broad variety of product category names that have been used over the decades. So let me collect here in one place some notes on how (and when) various terms have been used, specifically:
Management information systems
Decision support (systems)
Report writer
Fourth-generation language
Executive information system
Business intelligence
OLAP (OnLine Analytic Processing)
January 17, 2012
This post is part of a short series on the history of analytics, covering:
Historical notes on analytics — the pre-computer era (this post)

Sometimes, what people describe as being "New, new, new!!!" in analytics has actually been happening since before they were born, or even before their parents were. Occasionally, I point this out.

I think it's time to collect some of those observations into a short series of posts.
Before getting to the history of actual analytic software, I can't resist racing through some really old stuff. In a 2004 white paper, I wrote:
Transactional business processes have been around literally since the beginning of recorded history. Some of the oldest known writings are clay tablets that record merchants' tallies in Sumerian cuneiform, complete with seals to enforce transaction integrity. Analytic business processes date back nearly as long, especially in military applications; the first chapter of Sun Tzu's The Art of War is called "Calculations," or in some translations "Laying Plans."*

As enterprise complexity increased, so did the sophistication of analytic business processes. Almost two centuries ago, Nathan Rothschild made an investment fortune from early news about the Battle of Waterloo, and several decades later Florence Nightingale** introduced statistics to the study of public health. With the invention of machines to tabulate information in the late 19th Century, analysis began to blossom.
July 10, 2011
I blogged a little last year about the rewards and challenges of combining professional services and software in a mature company's business model. My main example was Oracle. But other examples from Oracle's history might have been equally instructive. For example:
Oracle started out doing what amounted to custom development for government (military/intelligence) clients.
Even when Oracle said it had productized its software, the stuff didn't work very well without services to get it running.
Oracle and Ingres both got a huge fraction of their early revenue* from deals to port their software to various brands of hardware. That's a lot like professional services.
Oracle's huge Tools Group grew out of professional services, if I have the story straight. Indeed, its first product was written by later long-time group chief Sohaib Abbasi when he was a consultant.
March 25, 2011
Something (I'll drop in a link when allowed) made me recall the story of Software AG and the USSR. Apparently, the USSR attempted to acquire a lot of Western technology, including ADABAS. Software AG of North America cooperated with the Feds to try to catch the Soviet agent in indictable technological espionage — but then, with its usual flamboyance, ran ads bragging about the event. The writeup of all this I found when searching was some subsequent Congressional testimony.
This was all slightly before my time — I only entered the industry and met Software AG in 1981. So does anybody else out there recall more of the story than I do?

February 12, 2011
In the process of researching my recent post on Management Horizons Data Systems, I came across an excerpt from a 1972 marketing brochure (quoted in the "History of Management Horizons" piece cited there). General notes include:
The brochure quote basically pitches business intelligence/ performance management, with unconstrained drilldown.
Pitching BI/analytics benefits for what start out as being transactional applications has been going on for pretty much the whole history of the applications industry. This just happens to be a great proof point.
The unconstrained drilldown part could almost be taken for granted today, in the relational era. In 1972, however, it was a rather bold (and for all I know exaggerated) claim.
The exact verbiage is:  Read more
February 12, 2011
I started drafting this post along with others around the time of my parents' deaths, then put it aside. However, I have been informed that my father's old colleague Alton Doody has cancer himself, and if we are ever to get his input, it would be best to solicit it REALLY SOON.

So I'm finishing this up now as best I can.
Here's the part I know from my own memories as
The son of a Management Horizons employee (namely my Dad).
A software industry stock analyst (in particular, one who followed Informatics General).
My father moved to the Columbus area in 1973 to join Management Horizons, a consulting firm serving retailers. Management Horizons had its own spin-out already, a time-sharing company called Management Horizons Data Services (MHDS), with which it still shared a building on what is now Old Henderson Road in Upper Arlington. And, this being a world full of coincidences, MHDS is very on-topic for the primary focus of this blog (software industry history).
MHDS' main business was a full suite of what we might now call ERP for distributors and/or retailers. That never amounted to much. But its secondary business was an electronic interchange for direct placement of orders, called Ordernet. Ordernet turned into Sterling Commerce, a > $1/2 billion company that has been acquired for >$1 billion more than once.
The chain of events, roughly, is:  Read more